Joshua
Every now and then, if you're really lucky, you are blessed in this life with a true friend, a heart to heart companion.
And if you are that lucky, you know that, without a doubt, you have been blessed beyond words.
We were blessed on April 24, 1984 around 10pm EST. Patrick's mom called and asked if we'd come over as her cat was getting ready to give birth. Being a nurse, I guess she figured gthat I'd know what to do. Not having a feline clue, we went over anyway to comfort mom....and "mom".
Momma Cat was a black longhair and dad was a black shorthair. The first kitten born was solid black. The second....black with white paws. The third.....black with a white patch on his chest. And forth.....all white with that Sealpoint Siamese tipping on the ears and tail.
As the tears welled up in my eyes, I knew, without a doubt, that we had added a cat to our family.
And so, Joshua was born into this world and into our hearts.
As soon as we could take him from his mom, he became our little boy. He bonded with us both but moreso with Patrick. His trust in Patrick was undescribable. Patrick could hold him upside down by his legs and he just hung there, looking up at us, purring away. The two of them spend many a day, week and month together, 24/7, and became inseparable, as you can imagine. The picture below was an everyday occurance. Josh sitting patiently, waiting for dad to wake up.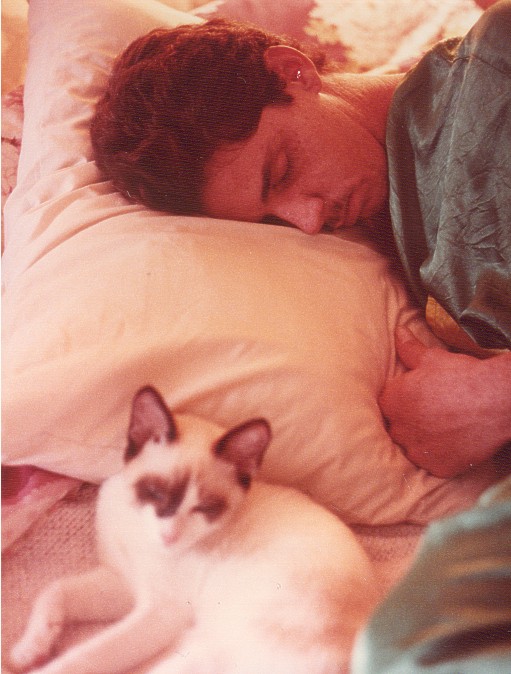 (waiting for dad to wake up)
The love from this tiny creature was beyond our comprehension.
As he grew, his markings changed and became quite unique.
He was our best friend, our companion, our buddy, our sweet little Joshua. He went back home on May 22, 2003 and although he was making the transition on his own, he (or maybe it was we) just wouldn't(couldn't) let go. As a final gift to him, we gave him the ultimate gift of love.
Although putting him to sleep eased his suffering, I wish it had eased ours also. His passing was smooth and gentle, but it still feels like he was ripped from our hearts. We walked around heavy-hearted, being reminded of his presence with every turn. After all, nineteen years together makes it hard to say goodbye.
And yet, there's a smile in our hearts, an underlying gratitude for having the honor and pleasure of his company, a smile for all of the happiness and love he so unselfishly poured upon us.
So, on that note.....HERE'S TO YOU, our dear friend.
You remain a part of our souls for all time!
*you can click on each of these thumbnails to see a larger image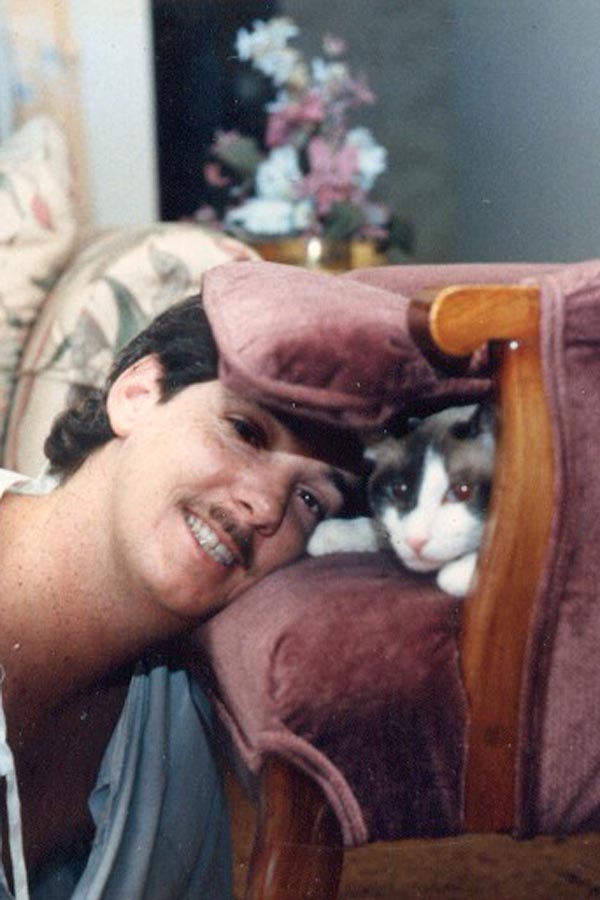 My personal Favorite!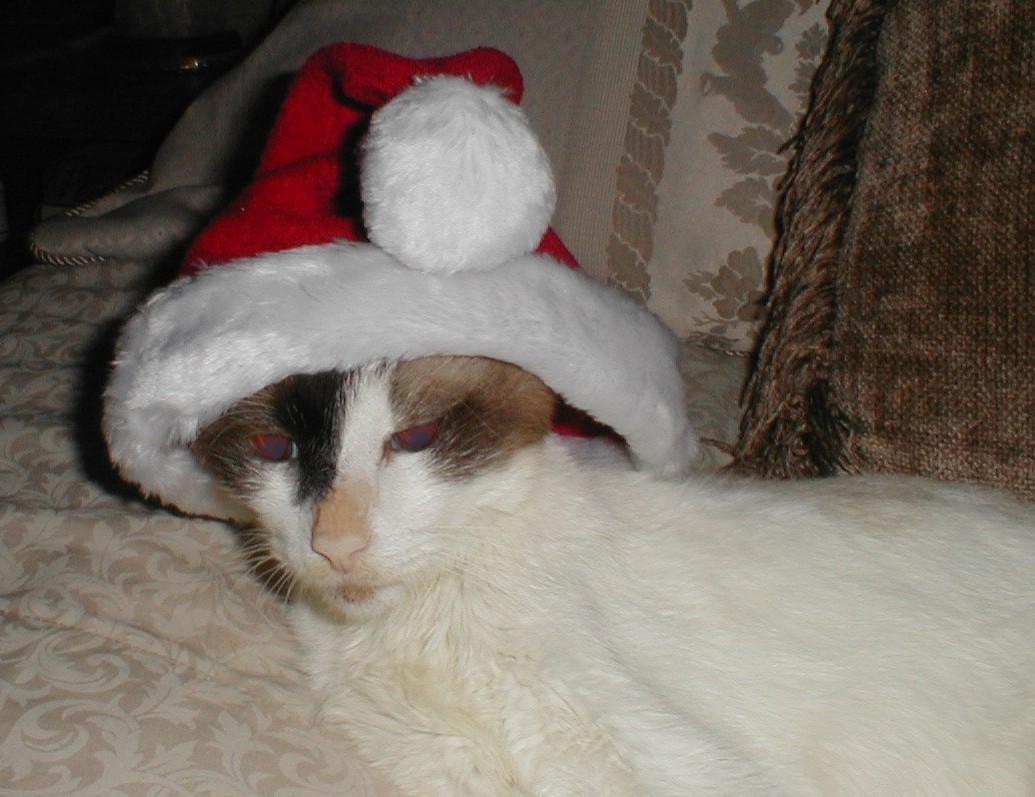 Santa Josh (oh yes, I do believe!)
If this page has touched you in any way and you'd like to share that with us,
please feel free to contact us